Nothing holds back Tempier: the Frenchman extends streak in Nals

Second HC success in a row and second win out of two Internazionali d'Italia Series stages: Team Bianchi Countervail's Frenchman is seizing the shape of his life. Sina Frei queen again among Open Women

SInce 19 seasons, the Marlene Südtirol Sunshine Race in Nals has been a certainty in the international offroad calendar – from a technical and spectacular point of view, and for the value of the top riders that constantly report to this race, year after year.
The 2019 edition on Sunday April 14th did nothing but live up to these expectations: not even the early-morning rain could affect the festival of a whole town in love with Mountain Bike, fired up by the passion of Sunshine Racers Nals, and a top-class second stage of Internazionali d'Italia Series. Seven hundred riders took part in the event in the different categories, from the youth's races in the early morning to Stephane Tempier's success in the afternoon.
OPEN MEN: FRENCH SWEEP IN SOUTH TYROL
When he is asked whether he feels a late bloomer, Stephane Tempier (Bianchi Countervail) disagrees: "It's not a matter of coming of age. My career has been a crescendo, year after year, moving toward the top. The one thing I still miss is a World Cup win." Maybe that time is about to come.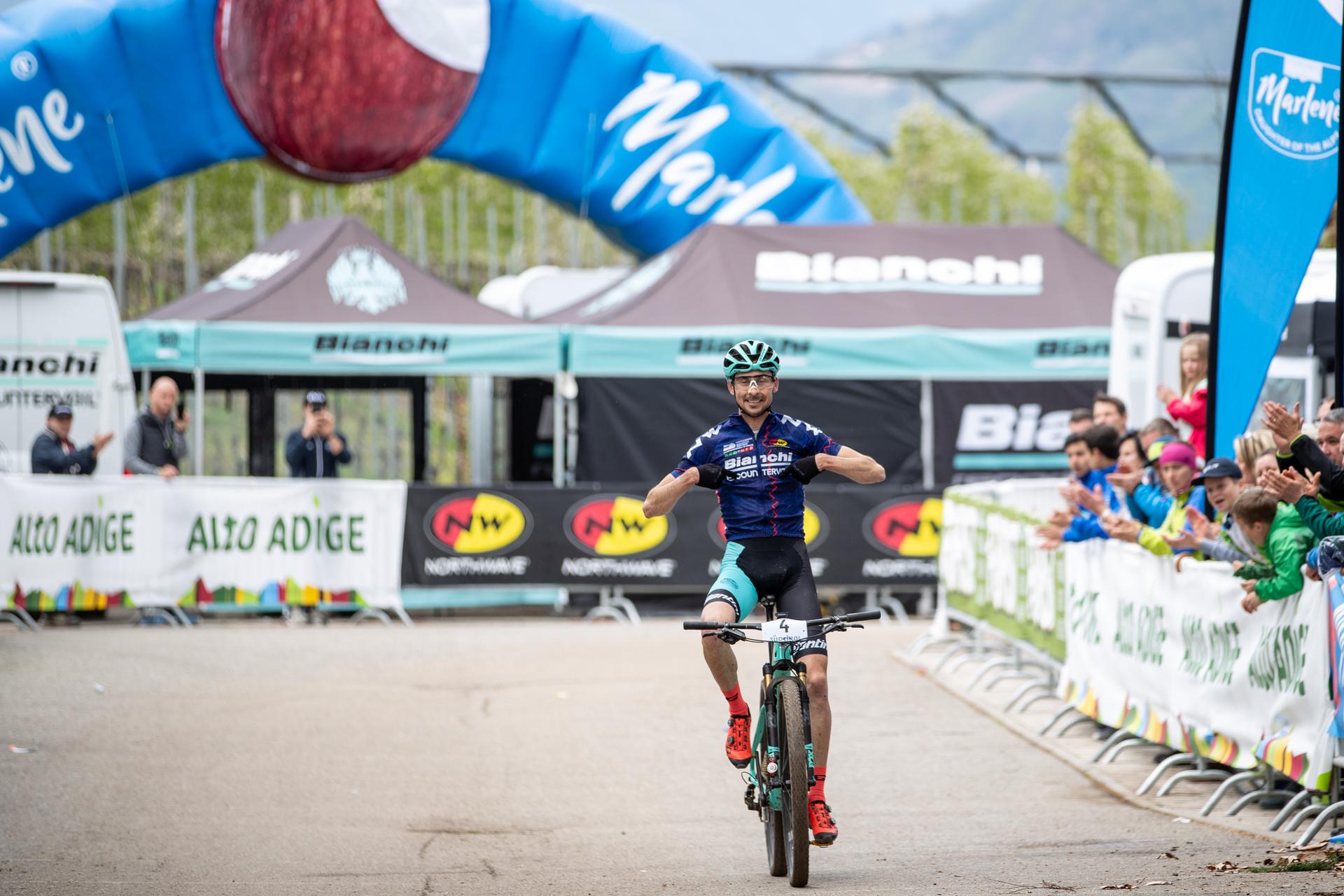 At Nals' Marlene Südtirol Sunshine Race, the Bianchi Countervail Frenchman sealed his third win of the season, second straight in a HC race in just two weeks, and second in two Internazionali d'Italia Series stages. His supremacy came out on distance, as a result of a fast but consistent pace, what he needed to hold back fellow Frenchman Jordan Sarrou (Absolut Absalon), who followed within striking distance for much of the race, but couldn't eventually close it.
Another Frenchman was the first to stretch the race: Maxime Marotte (Cannondale Factory Racing) accelerated in the launching lap, followed by Sarrou and Petter Fagerhaug (Norway), with the chasers racing grouped but at a frantic pace. After the first lap, though, Tempier's move changed the overall scenario, as he went on to form a leading duo with Sarrou, chased by an Italian trio formed by home-favorite Gerhard Kerschbaumer (Torpado-Ursus), Luca Braidot (CS Carabinieri) and Nadir Colledani (Bianchi Countervail).
On the uphill, Tempier made the most of his great condition to distance Sarrou by a few, decisive seconds, whilst the Italian trio kept cruising just under a minute behind. This is pretty much how the race unfolded until the end: Tempier raised his arms, Sarrou came in second 18 seconds blater, and Luca Braidot barely saw off Gerhard Kerschbaumer in a two-man sprint. Nadir Colledani clinched fifth place in a very satisfactory race for Massimo Ghirotto's Bianchi Countervail Team.
"The early race was really intense – told Stephane Tempier – but the first way up to the Nightingale climb gave me good feedbacks about my legs, and I started pushing more and more as the race went by. I thought Gerhard Kerschbaumer was the favorite today, even more as he was racing in his home area, but when I realized I had some margin, I was confident to be able to take it to the finish."
Tempier also strengthened his hold on the Northwave Custom Project overall leader's jersey, as the GC seems to start shaping in quite a definite way. "As a team, Internazionali d'Italia Series is a big target for us, and we want to keep the jersey until the end. So far, so good."
Juri Zanotti (Torpado Ursus), 13th on the day, conquered the best Under 23 leader's jersey.
In front of his home fans, Gerhard Kerschbaumer rose to fourth place in spite of a challenging race, particularly at the start: "In the launching lap I had really bad feelings, I even thought about abandoning the race. What pushed me over was the support of the home fans, I wanted to do something special for them. If we consider how it started, it's a good fourth place."
OPEN WOMEN: SINA FREI DOUBLES UP
The chase to the six-win record held by Gunn-Rita Dahle in Nals is still a long way to be achieved, but the start is promising to say the least: just 21, Ghost Factory Racing's Sina Frei has won her second Marlene Südtirol Sunshine Race in a row.
Twelve months have passed, but the plot has remained the same. The Swiss rider, who dominated the 2018 Under 23 World Cup, imposed her rules from the very beginning, winning a duel from distance with Dutch Anne Tauber. The CST-Sandd rider held on until halfway into the race, but eventually had to surrender to her rival, ending in second place, 36 seconds behind the winner.
The battle for third place once again involved Ghost and CST-Sandd: Yana Belomoina (CST-Sandd) endured a tough start, but found her best pace on the uphill as kilometers went by, managing to come back and conquer the third place (+2.01), ahead of Ghost teammates Anne Terpstra (+2.47) and Lisa Pasteiner (+3.27).
"I am very happy with this result, particularly at the end of such a tough race," stated Sina Frei afterwards. "The terrain was treacherous, and that's why I wanted to start fast and lead from the beginning. I managed to do that, and everything went to plan."
Home rider Eva Lechner (Torpado-Südtirol) performed a solid race, ended as best Italian rider in 7th place, 5.03 behind, though she could not be in the game for the top spots. "I think I made a good race, actually I thought the terrain would be wetter and more difficult, instead it was fairly fast. Obviously I know this course very well, so I lowered the tire pressure a bit so to have better control. To be back competing in front of my home fans was really something: they have cheered for me through the whole race."
The Italian rider from Eppen enjoyed the opportunity to wear the Internazionali d'Italia Series leader's jersey, stripped from the shoulders of Martina Berta (Torpado-Ursus), 11th on the day. Another Italian, Marika Tovo (Ghost Factory Racing) ended in ninth place, though still in her quest for the best shape. Two more home riders were in the race: Greta Seiwald (Santa Cruz – FSA) was 14th, Eva-Maria Gatscher (Sunshine Racers Nals) 23rd.
AUSTRIA RULES THE JUNIOR SERIES
The Junior Men race was topped by one of the strongest riders at this time, Austrian National Champion Mario Bair, who had already won in Haiming seven days ago.
The young Tyrolean of Racing Team Haiming found his fiercest rival in Italian in Andreas Emanuele Vittone (Velo Club Monte Tamaro): after the early duel, the Austrian managed to open an increasing gap over the Italian, who had to stand with a prestigious 2nd place, 1.19 behind the winner. A Norway's National Team rider, Ole Sigurd Rekdahl, came in third, 3.09 behind.
Mario Bair's awe was totally understandable: "It might be my fifth or sixth time in Nals, but it's my first victory here, so I am glad to have broken the ice. I am in a great moment of shape and adding another major win after Haiming is really special. Today the wet ground made Nals' course even more challenging and treacherous, but as I found my pace I managed to hold up and get to the finish with a good margin." Frenchman Luca Martin (Veloroc-BMC), sixth on the day, managed to hold on the Internazionali d'Italia Series leader's jersey.
Another celebration would follow for Racing Team Haiming later on, with the Junior Women's series, as Mona Mitterlwalner dominated the race, distancing Norwegian Helene Marie Fossesholm and German Luisa Daubermann. Letizia Marzani (Merida Italia Team) held on the category leader's jersey.
WET OPENING IN NALS. SUDTIROL RULES CADET WOMEN'S SERIES
The early morning rain did not impress the youth categories' riders, who gave life to intense and entertaining races in Nals.
Südtirol, and ASV St. Lorenzen team in particular, had plenty of reasons to celebrate in the Cadets category: Noemi Planckesteiner confidently ruled the 2nd year race, as Sophie Auer did in the 1st year category.

Lombardy's Valentina Corvi (Melavì Focus Bike) lived up to the predictions by winning the 2nd year rookies' race, extending her very good early season stretch, whilst Sanremo-born Beatrice Temperoni (Ciclistica Bordighera) edged the 1st year Rookies' race: Italian National Cyclocross champion in her category, he Ligurian rider found ideal ground to express her technical skills.
Next up were the Men's youth categories: the 2nd-year Rookies' race was won by Vallée d'Aoste's Etienne Grimod (XCO Project), who managed to see off runner-up Pietro Genesini (Focus XC Italia Team). In the 1st-year Rookies category, Luca Fregata (Focus XC Italia Team) won a hotly contested race, leaving behind Stefano Sacchet (Bettini Bike Team) and Nicholas Travella (GS Cicli Fiorini ASD) by a few seconds.
Vallée d'Aoste's Filippo Agostinacchio (XCO Project) confirmed his front-line credentials by winning the 2nd-year Cadets' race, seeing off Michael Pecis (Scuola Mtb San Paolo D'Argon) by short distance. Among 1st year Cadets', Piedmont's Edoardo Renna (Team Bramati Piemonte) finalized a long solo ride, sided on the podium by two Polisportiva Quilano Bike riders, Carlo Cortesi and Emanuele Tirasso.
NEXT UP: TITANO XCO (SAN MARINO)
Internazionali d'Italia Series will be back in two-week time, on Sunday April 28th, in San Marino for the Titano XCO race, stage 3 of the series. There is much expectation surrounding this fixture, as among its participants will feature the greatest star of today's MTB, reigning World and Olympic Champion Nino Schurter, along with fellow Scott-SRAM teammate and European Champion Lars Forster.
Nals (Italy), April 14th, 2019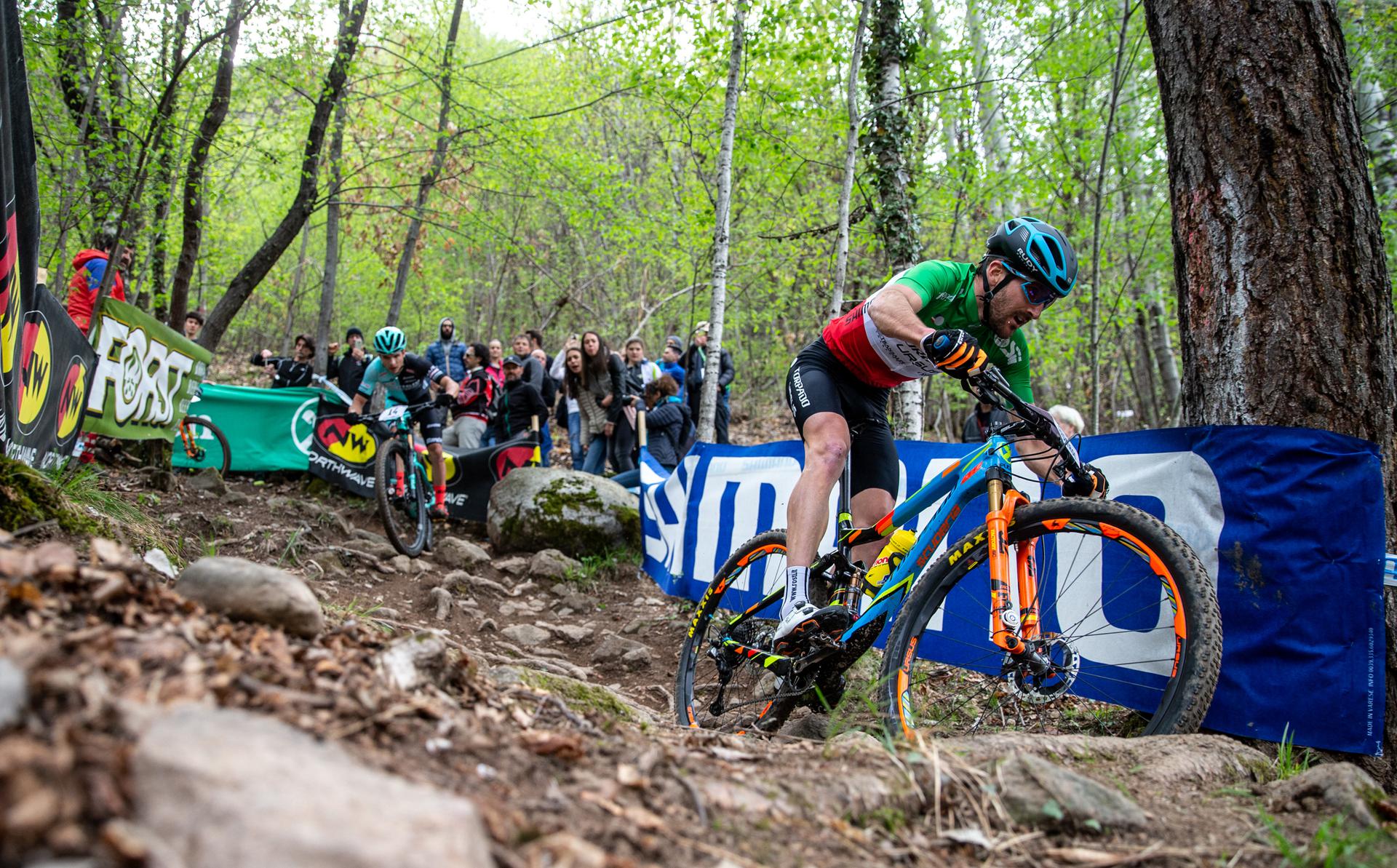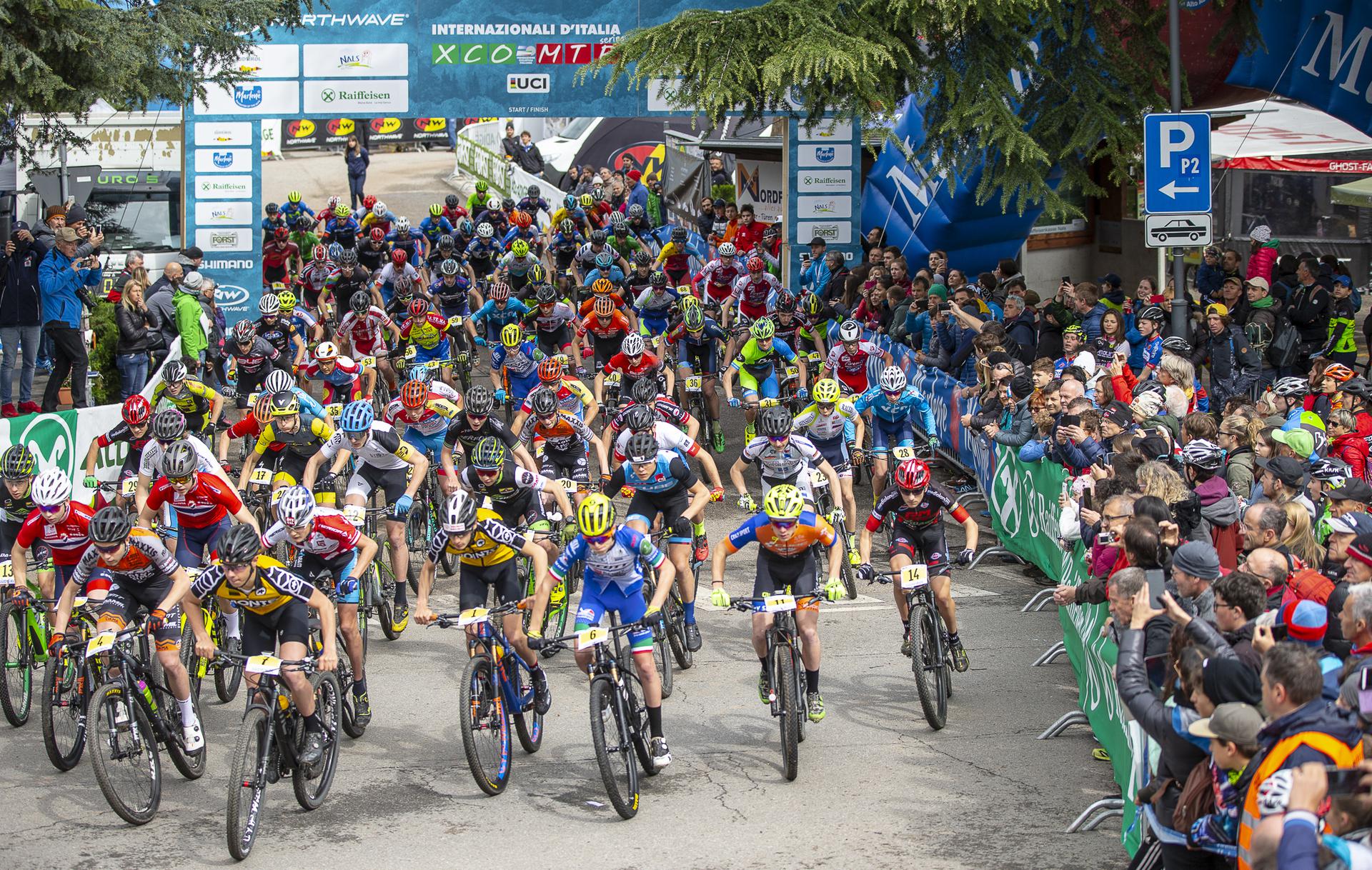 PHOTOS: 1) Stephane Tempier claims the second win in a row at Internazionali d'Italia Series; 2) The Frenchman celebrating the success at Marlene Südtirol Sunshine Race; 3) Sina Frei repeated the win of the last year in Internazionali d'Italia Series' HC round; 4) The podium of the Men's Open race. From left: Kerschbaumer, Sarrou, the winner Tempier, Luca Braidot and Colledani; 5) The podium of the Women's Open race: From left: Anne Terpstra, Anne Tauber, the winner Sina Frei, Yana Belomoina and Lisa Pasteiner; 6) The podium of the Men's Junior competition: the winner Mario Bair (c); 7) The podium of the Women's Junior competition: the winner Mona Mitterlwalner (c); 8) The home rider Gerhard Kerschbaumer finished in fourth place; 9) 750 athletes took part in the 2019 Marlene Südtirol Sunshine Race (Credits: Michele Mondini e Mario Pierguidi). Free usage granted with credits. Click on the images to download.